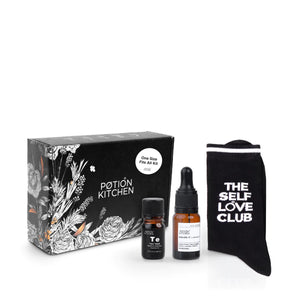 One Size Fits All Kit by Potion Kitchen
Regular price $27.00 Sale
Inside the Kit:
Nailed It Cuticle Oil - 10ml: A blend of Castor, Jojoba, Olive & Avocado oils which help in providing moisture for the nail and cuticles, preventing dryness and decreasing breakage.Essential oils like Lavender, Lemon, and Eucalyptus treat brittle nails and reduce thinning.
Tea Tree Essential Oil - 5ml: Our 100% pure Tea Tree essential oil is known for it purifying properties. It can be used to purify the skin and nails. Tea tree helps with skin irritations and may act as an all-purpose cleaner due to its disinfectant properties. Adding a few drops to a diffuser freshens the air. 
Self-Love Socks x Sikasok: We've created this beautiful pair of self-love affirmation socks in collaboration with Sikasok.