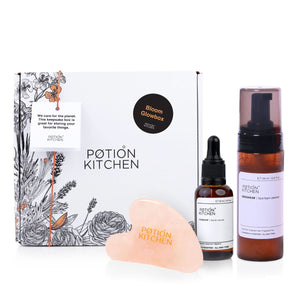 Bloom Glow Box by Potion Kitchen
Regular price $52.00 Sale
Inside the box:
Geranium Facial Foam Cleanser 150ml: A generous floral facial wash with skin radiant ingredients, that gently removes all traces of dirt and excess oils without stripping the skin, leaving it thoroughly cleansed.
Rosehip Geranium Facial Serum - 30 ml: Characteristic ingredient, Rosehip oil is known for its face rejuvenating benefits and solutions to almost every skin problem, blended with the sweet-smelling and uplifting Geranium pure essential oil.
Rose Quartz Gua Sha Massage Stone: Gua Sha massaging is a skin care method developed by the Chinese to remove impurities from the skin. During this method of scrubbing, the negative energies emanated from a person's aura is scraped off as well, providing therapeutic, spiritual and physical benefits.